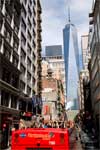 All Around Town 48 Hours
Price from £ 55
The All Around Town Tour offers the best sights in Manhattan with our Hop-On Hop-Off sightseeing buses with over 30 stops and connecting transfer points to switch from one tour loop to another. You can also use our Hop-On Hop-Off ferries and experience New York from the water. Your ticket includes access to either the New York Historical Society or The Museum of the city of New York and a free Eat and Play Card providing you with great discounts!

Highlights:
- 48 hours Hop-On Hop-Off double-decker tickets
- Citysightseeing Hop-On Hop-Off ferry tickets
- An escorted Night Tour with live commentary and Manhattan skyline photo opportunities
- Live commentary and audio guide in 11 languages on the busses and ferries
- Ticket for either the New York Historical Society or the Museum of the city of New York
- A free Eat and Play Card - the NYC savings card

Click HERE to see a map of the loops
Get All Around Town
Hop on one of the many Hop-On Hop-Off sightseeing buses and enjoy the ride. On the busses you'll have the option to listen to the tour guide in English or an audio guide in English, French, Spanish, German, Italian, Portuguese, Mandarin, Russian, Japanese, Korean or Hebrew.
CitySightseeing New York Hop-On Hop-Off Ferry allows you to enjoy a fun & flexible sightseeing tour around Manhattan harbor by the sea! Learn about NYC with guided tour commentary while traveling from stop to stop.
Visit either the New York Historical Society, one of America's pre-eminent cultural institutions, which is dedicated to fostering research, presenting history and art exhibitions. Founded in 1804, the New York Historical is the oldest museum in New York City. Or the Museum of the city of New York, celebrating the city's cultural diversity and evolution.

You also get a free Eat and Play Card, which gives you savings on your stay in New York on everything from dining, attractions, entertainment, shopping and more. Each card is valid for up to 4 people and can be used again and again for the duration of an entire NYC stay (up to 30 days).
How do I get my tickets?
Shortly after your booking is complete your e-ticket will be sent directly to your email, just print it out and bring it to Gray Line CitySightseeing New York visitor center, where you'll exchange it for your tickets.

Hop-On Hop-Off bus tickets are valid for 48 hours from the time the ticket is issued at the visitors center. Tickets for the New York Historical Society, the Museum of the city of New York and city sightseeing Hop-On Hop-Off ferry are valid as indicated on the ticket stub.
What can I see with the Hop-On Hop-Off buses?
Downtown Tour: Stops include Empire State Building, Greenwich Village, SoHo, Little Italy, Chinatown, World Trade Center site, Battery Park (departure point for Statue of Liberty/Ellis Island ferry), South Street Seaport, Times Square, Rockefeller Plaza, Radio City, United Nations, Fifth Avenue and more.
Uptown Tour: Stops include Central Park, Lincoln Center, Theater District, Fifth Avenue, American Museum of Natural History, Cathedral of St. John the Divine, Apollo Theatre and Harlem neighborhoods, Metropolitan Museum of Art, Guggenheim and other famous cultural attractions on Museum Mile and more.
Brooklyn Tour: Stops include Brooklyn Promenade/ Cadman Plaza, Atlantic Avenue, Barclays Center, Brooklyn Museum of Art and Botanic Garden, Brooklyn Public Library, Fort Greene Park and Brooklyn Academy of Music. You will also see Old Fulton Landing, Grand Army Plaza, Brooklyn Bridge and Manhattan skyline.

Bronx Tour: The Bronx – birthplace of hip-hop, tap dancing and breakdancing; home to the Grand Concourse (1909) modeled on Paris' Champs-Elysees and Yankee Stadium. The tour begins at the Grant's Tomb. En-route to the Bronx you will view more neighborhoods of Harlem and Upper Manhattan. Your tour guide will provide information about the history, culture and diverse population of the Bronx. At the only hop-off stop you can get off and see baseball's Yankee Stadium, home to the 27-time World Series Champions, the New York Yankees.
Night Tour: See New York when it sparkles! Enjoy the night-time views and ambiance of Midtown Manhattan. Also marvel at the memorable views of Chinatown, Empire State Building, SoHo, Little Italy, Manhattan Bridge, Brooklyn Bridge and more!
Lights of the Holiday Tour: During the holiday season the Night Tour becomes a "Lights of the Holiday" Tour, featuring animated window displays & holiday decorations at New York's famous department stores, the giant tree at Rockefeller Center and Manhattan's other unique sights during holidays.
Are there children's tickets?
Yes, for children between 3 and 11 years old. Children under age 3, accompanied by an adult and not occupying a seat, travel complimentary.
Fantastic
4.5
2 customer reviews
A couple of Days sightseeing
Having done this before in NYC it is worth the trip. There are plenty of agents out on the street trying to sell the same deal but the voucher really does help. The only downside being that you have to hunt down the office to transfer the voucher into tickets but this was straight forward and on we went. Doing an open top bus in December is not faint hearted and only a few of the busses are covered from the rain so it is luck of the draw if the weather is OK. The guide on the uptown tour was very charismatic and even stopped off at the cathedral to have a look round which was not part of the norm (or so he said). The downtown tour guide was less charismatic but it did not help with it being raining. The hop on hop off facility was helpful though as it does save on taxi and subway fares around town. Highly recommended!
Brilliant!
I have been to New York 3 times prior to this visit and this time I wanted to do something that I'd never done before so thought I'd give the Hop on Hop Off bus tour a try. I am so glad I did as it was absolutely brilliant and a fantastic way to see the city! The guides were so informative and as such I learnt a lot about the city. The stops were in great places for the nearby attractions. I would recommend the 2 day "All Loops" bus tour to anyone who visits New York and I would definitely do it again the next time I'm in town.
All Around Town 48 Hours Info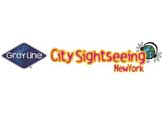 All Around Town 48 Hours
Gray Line CitySightseeing New York
Between 47th & 48th Street
777 8th Ave, New York, USA
Info
All Around Town 48 Hours
Opening hours for ticket collection at Gray Line CitySightseeing New York Visitor Center:
Daily 8am- 8pm
Directions
Directions
Take the Metro to Times Square 42nd Street and walk to Gray Line CitySightseeing New York Visitor Center on:
777 8th Avenue between 47th & 48th Street



View map