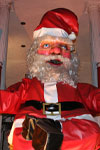 A Slice of Brooklyn Christmas Lights Tour
Price from £ 48
Forget about Rockefeller Center! If you want to see real Christmas lights, come to Brooklyn. Our Christmas Lights Tour highlights the festive homes of Dyker Heights, the Italian-American section of Brooklyn made famous in the PBS documentary "Dyker Lights" and seen on TLC's "Crazy Christmas Lights" and much more!

Highlights:
- Take a 3.5 hour tour around Brooklyn and see the amazing Christmas lights
- See Lucy Spata's house, the woman who started the tradition back in the 1980's
- Experience the Polizzotto home featuring the largest Santa in the neighborhood at 15 feet tall
- Be amazed by the millions of lights with synchronized to music at Robert DeLauro's house
- Visit Sam the Greek's house, that's best described as Christmas meets Las Vegas
Experience Christmas Lights Like Never Before
We don't just take you to see the lights. You'll be escorted through the neighborhoods by our guide, both on and off the bus, and hear the stories behind the homeowners and their lights.
The multimedia presentation on the bus includes classic Christmas music from throughout the decades as well vintage Christmas variety specials like Andy Williams, Frank Sinatra, Bing Crosby and more on the screens of our bus on the ride back to Manhattan.
See for yourself why the tour has been featured on Good Morning America, Samantha Brown's "Holidays in New York", the Today Show and more!
The tour is operated in English.
How do I get my tickets?
Shortly after your booking is complete your e-ticket will be send directly to your email, just print it out and bring it on your tour.
Where does the tour begin?
The tour starts in front of Liquiteria Juice Bar. Please be there 15 minutes before the tour starts.
How long does the tour last?
The tour lasts about 3.5 hours.
Are there children's tickets?
Yes, children's tickets are available for children under 13.

A Slice of Brooklyn Christmas Lights Tour Info
A Slice of Brooklyn Christmas Lights Tour
The meeting point is in front of the Liquiteria juice bar.
North East corner of East 13th Street and 4th Avenue,
Manhattan,
New York

Info
A Slice of Brooklyn Christmas Lights Tour
The tour operates every night in December except December 24, 25 and 31 at 7 PM.
Directions
Directions
The closest subway stop is: 20 Av.



View map