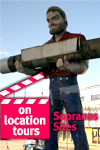 Sopranos Sites
Price from £ 44
Join the mob for a day and visit the locations from the Sopranos series in New York.
Take a trip through Sopranoland! This four hour guided tour will take you through New Jersey´s Sopranoland, all the way form the Garment District in Manhattan. You´ll hear snippets of Sopranos trivia and behind the scenes info and "not to fuhgid aboud" mafia talk. You´ll also stop at the restaurant from the final episode!
The tour departs near Times Square in Manhattan and takes you straight through the tunnel into Sopranoland: New Jersey. Here you´ll see the locations from the series as the guide fills you in on everything Soprano.
Join the mob and stop at Bada Bing. Check out Barone Sanitation, Tony´s legitimate busienss! Sit onthe steps of the diner where Chris was shot and visit the spot where Big Pussy spoke with the FBI.
You´ll also stop at Father Phil´s Parrish and have the chance to sit in the restaurant booth where Tony sat in the final scene of the series.
Departs: Saturday at 10 AM at Button Sculpture (Seventh Ave. & 39th St.) Look for a tour guide with a blue umbrella

Children: Must be 13 or older to take this tour

Duration: Approximately 4 hours

Important:
- The Tour is in English!
- The tickets will be sent to your e-mail address as soon as you have completed your booking ad payment online
- Departure from Button Sculpture (Seventh Ave. & 39th St.) Look for a tour guide with a blue umbrella
- Please be there 15 minutes prior to departure!
- Tickets are only valid on chosen date!
- Children must be 13 or older to attend this tour
Fantastic
5.0
1 customer reviews
Not for nothing - what the f***!
Excellent tour, made us want to watch the show all over again. Tour guide was funny and very informative.
Sopranos Sites Info
Info
Sopranos Sites
Saturdays at 10 AM.
Directions
Directions
Take the subway to Times Sq./42nd. St. station



View map