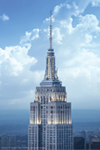 Empire State Building
Price from £ 32
Have you ever seen New York from above? Well, here is your chance. Take a trip up to the Empire State Building's Observatory Deck and watch the city that never sleeps. With prebooked tickets you get to the top faster!

Highlights:
- Get to the top faster!
- Visit the observatory deck on the 86th floor
- Enjoy the spectacular 360-degree view over New York

Get the Best View of New York
Up there you will find an open air 360-degree terrace on the 86th floor also contains an indoor viewing gallery for chillier days. Outside, you'll find high-powered binoculars and a wheelchair-accessible promenade with the most spectacular views of downtown, midtown, Central Park and beyond.

So get to the top at Empire State Building faster, and take the elevator to a dream view over The Big Apple on the 86th floor.

Want to see even more of New York? Then our NYC It All package might interest you! The package, of course, includes entrance to the Empire State Building, sightseeing with the Hop-On Hop-Off buses and much more. Plus it allows you to save a great deal compared to purchasing tickets individually.

How do I get my tickets?
Shortly after your booking is complete, you will receive an e-ticket by mail. Please print out your ticket and bring it with you to the Empire State Building.

How does it work?
You simply exchange your e-ticket(s) on the 2nd floor of the Empire State Building within the opening hours and then either start your tour straight away or whenever it suits you within 14 days.

How long are my tickets valid?
Once you have redeemed your e-ticket it is valid for 14 days.

When can I visit the Empire State Building?
The Empire State Observatory Deck is open every day, including weekends and holidays, from 8 AM to 2 AM.

Are there children's tickets?
Yes, children's tickets are available for children between age 6-12. Children under age 6 are free when accompanied by a paying adult.

Important information:
- Please note you have to proceed through security to access Empire State Building.
- Our e-tickets do not skip any line there might be at the security check and at the elevators going up and down from the observatory deck.
- Please note your ticket only allows you access to the main observatory deck on the 86th floor.
- The promenade is wheelchair-accessible.
Fantastic
4.6
7 customer reviews
Absolutely great!
Loved going up the Empire State Building looking over New York City!!! Was a lovely sunny day so got some brilliant views. It was a very quick process getting through security and picking up tickets. All the staff were very helpful and friendly. Also purchased a ticket when there to go up to floor 102 which was excellent, glad we did it!!! Definitely worth doing either or both floors.
Iconic
This building is so incredibly beautiful inside as well as providing amazing views across the city. Of course it is everything you expect but also the staff are helpful, friendly and funny. You can stay as long as you want and there are shops and restaurants on the ground floor. Naturally the souvenir store is overpriced but it's not in-your-face. Overall, a really great, memorable experience.
9/11
This is a must if you visit New York. It's a very emotional experience. You just can't imagine what it was like for everyone in and around the building when it collapsed. The Fire Fighters/ Police/ Emergencie Services that were also in or near the buildings. The Meusem has been set out very well and tells a story from when the first Emergency calls were made. The heat from the fire was incredible when you look st the steel from the building and the ladders off the Fire Engine battled and twisted. The items that were found and a photo of everyone that was killed that day. It effected so many families loosing a family member or friend or work college. Let alone the Fire Stations lost so many Fire Fighters.
These tickets were purchased as a gift
We had no problem booking theses tickets and our friend was delighted to receive them. Would maybe be a good idea to do a gift voucher type of deal where the print out has the persons name on it.
Thankyou
Not to be missed
It ticked all boxes, everything I expected and more
Well worth a visit
Great views, should not be missed
Empire State Building
Yes i went with my 18 year old daughter.It was a marvellous experience - we went on a Monday evening about 8.30pm so we saw from the 86th floor New York by twilight - it was spectacular.Also although we had to queue, everything was really well organised.The building itself was very Art Deco - very well worth a visit.I booked online in the UK and had no problems at all with my E tickets.
Empire State Building Info
Empire State Building
20 West, 34th Street, NY
Info
Empire State Building
The Observatory is open every day, including weekends and holidays, from 8 AM to 2 AM.
Directions
Directions
The two closest subway stations to the Empire State Building are 34th Street - Herald Square and the 33rd Street at Park Avenue.



View map